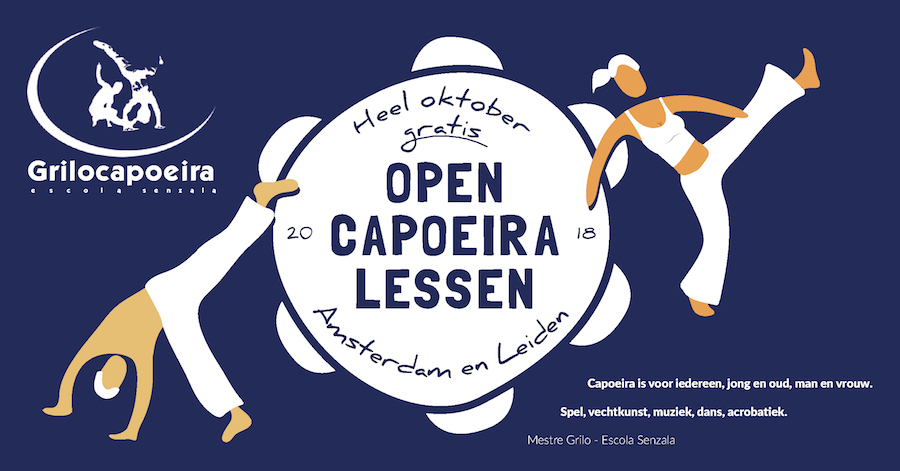 Capoeria Leiden en Amsterdam
Speciale aanbiedingen herfst 2018
MELD JE NU AAN
(for English scroll down)
1 MAAND GRATIS CAPOEIRA (okt)
OPEN CAPOEIRALESSEN
(volwassenen)
De hele maand oktober gratis voor nieuwkomers
Leiden
Woensdag en vrijdag 20:00 – 22:00
vanaf 5 okt.
P.C. Hooftlaan 13
Amsterdam
Donderdag 19:30 – 21:30
vanaf 4 okt.
Rustenburgerstraat 236, de Avonturijn
(blauwe deuren tegenover nr. 237)
AANMELDEN
BEGINNERS CURSUS CAPOEIRA (nov-dec)
CAPOEIRA VOOR BEGINNERS
(volwassenen)
7 lessen voor € 35,-
Leiden
7-nov t/m 19-dec.
Woensdag 20:00 – 22:00
P.C. Hooftlaan 13
Amsterdam
8-nov t/m 20-dec.
Donderdag 19:30 – 21:30
Rustenburgerstraat 236, de Avonturijn
(blauwe deuren tegenover nr. 237)
AANMELDEN
Ontdek de basis van het spel
Wat is capoeira? Altijd al een keer willen proberen? Dit is je kans! Voor nieuwe enthousiastelingen bieden wij in het najaar van 2018 de mogelijkheid om capoeira te ontdekken. De combinatie van muziek, acrobatiek, spel, dans en vechtkunst, maakt de capoeirales van Capoeira Leiden en Capoeira Amsterdam een geweldige ervaring voor iedereen. Jong en oud, man en vrouw. Maak kennis met de basis van het spel en meld je nu aan voor de open lessen en/of de beginnerscursus via bovenstaande knop!
Fysiek en muziek
Een work out voor het complete lichaam. Kracht, conditie, coördinatie, balans, flexibiliteit, reflex en concentratievermogen. Ook leer je capoeiraritmes spelen op verschillende percussie instrumenten.
1 MONTH CAPOEIRA FOR FREE (Oct)
BEGINNERS COURSE CAPOEIRA (Nov-Dec)
Capoeira is for everyone
What is capoeira? Always wanted to try it out? This is your chance! This autumn we offer the possibility for new enthusiastic people the discover capoeira. The combination of dance, acrobatics, music and martial arts, will automatically give you energy. That makes the capoeira class from Capoeira Leiden and Capoeira Amsterdam a wonderful experience for everyone. Young and old, men and women, everybody is welcome! 
Physical and music
Capoeira is a work out for the complete body. Once you start following more capoeira lessons, you will notice fast improvement in strength, endurance, coordination, balance and flexibility. And you will develop better reflexes and focus. Next to that, you will learn to play capoeira rhythms on the different percussion instruments.